Use these graphics for an easy $15/month Commission.
It's a simple Big Fat Claim!
Unlimited WordPress Support, Fixes, Tweaks and Small Jobs – $69/month!
The tag line is straight forward… Sign Up
… For Worry Free Web Sites That Just Work!
When your pressed for time, hate technology, and don't want to learn how all this stuff fits together!
So in keeping thing simple we've created some straight forward affiliate graphics that you can use on your sites to generate an easy $15 every month for every sale that comes for your referral.  These are just a couple of the new tools available to affiliates and partners.
Click Here –  If you haven't created an affiliate account just register a free account.
New Graphics You Can Use Today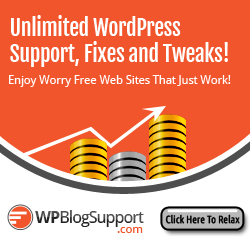 In addition to these graphics we've also added email copy and replicated sites that you can use to give away great resources like the all the WordPress Training Course available at WPblogSupport.com